"90 Day Fiancé" star Natalie Mordovtseva treated her fans with a video showing her post-weight loss figure on a beach. She lost some pounds after leaving her partner.
Natalie Mordovtseva inked her name in "90 Day Fiancé's" history when she tossed the ring of her partner, Mike Youngquist, during season seven. Then, in season eight, she called him low class.
She kept making headlines for using strange filters on her Instagram pics and modifying her body via photoshop. In a recently posted video, though, she looks different from when she was in Kyiv with Youngquist.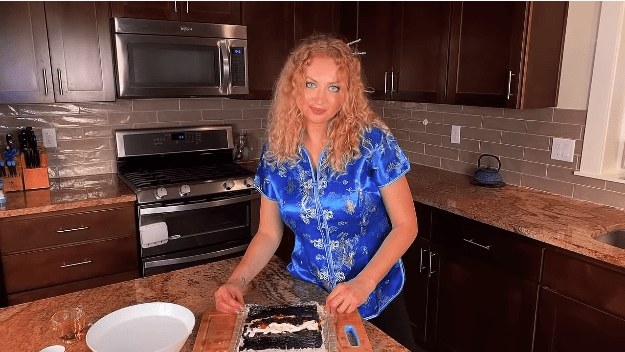 LOSING WEIGHT
On June 27, Mordovtseva took to Instagram to share a short clip of herself having fun on a beautiful beach. The Ukrainian TV star was wearing a white beach dress and a pink hat. 
Although the sunny sky and clear water looked impressive, Mordovtseva's figure attracted all the attention, especially because she recently dropped 30 pounds. 
She began slimming down after leaving Youngquist, whom she married on April 15, 2020. Mordovtseva once admitted she gained some weight due to stress eating. 
Before embarking on her weight-loss journey, some people even believed she was expecting a baby. Others claimed she had gotten breast implants, but it was just some extra pounds.
Unfortunately, Mordovtseva received some backlash online after denying getting any extra help from surgeons and claiming she had lost weight just by following a secret fitness routine.
Eventually, she confessed on an Instagram live that she got liposuction on her chin, stomach, belly, and waist. Mordovtseva had previously said that, while she looked thin in pictures, she still wanted to look good with no clothes on. 
Apart from that, she once pointed out that women with big breasts should not exercise to lose weight because their breasts might get smaller. However, she has been posting videos on social media exercising with trainer Jeyran Dursunova.
According to Dursunova, she followed a weight-loss plan he designed that included a keto diet, intermittent fasting, and workouts, and she went from 165 to 136 pounds.
RELATIONSHIP WITH MIKE YOUNGQUIST
Coming back to Youngquist and Mordovtseva's relationship, they met at the baptism of their best friends' child. Their union seemed off right from the start, especially because they had different opinions on religion, food, health, and children. 
Mordovtseva had many reasons to leave him, including the confederate flag decorating his house.
They got engaged within three months and appeared in season seven of "90 Day Fiancé." Unfortunately, their relationship was far from perfect.
She accused him of body-shaming and cheating on her with a friend named Sarah, but they stayed together and made it to season eight of the show. Youngquist's behavior didn't change much, and he even said he didn't love her at all. 
SCANDALS IN THEIR RELATIONSHIP
Although they were not together for long, they were involved in several scandals. After Mordovtseva suggested Youngquist had a low IQ, he seemed disinterested in her and rejected going to couple's therapy with her.
Apart from that, he canceled their wedding after talking to his mother, Trish, dumping Mordovtseva, and enraging the show's fans. Still, season eight's finale showed Mordovtseva tying the knot to a reluctant Youngquist.
Their marriage didn't stand the test of time, though, as they are separated nowadays. Again, Mordovtseva had many reasons to leave him, including the confederate flag decorating his house. 
Youngquist also grabbed his ex-wife indecently in front of Trish, and Trish even insulted Mordovtseva. Currently, the Ukrainian TV star is focused on her career as she wants to become an actress in the States. Good luck!