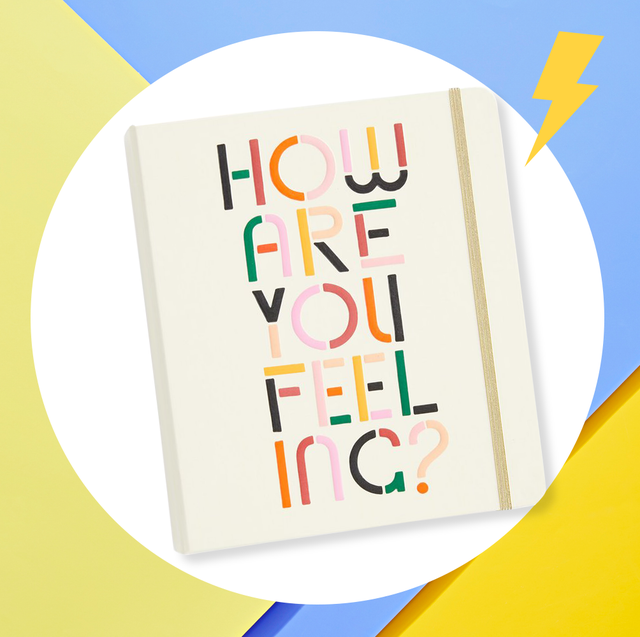 Christine Giordano
If you think a journal is just for doodling and keeping track of your days and to-do lists, think again. A notebook is also the best way to stay on top of your physical and mental health. Adding a fitness journal to your stationary pile will help you log your workouts, meals, and daily moods, so that you can have a tangible view of your progress.
Plus, having a place to jot your goals down is especially useful for those wanting to make a lifestyle change, like shedding a few pounds or ensuring you get in a certain amount of cardio or strength training a week. Writing your goals down makes and sharing them with a friend improves the likelihood that you'll be successful in achieving your goals, found a study conducted at the Dominican University of California. Another study in the AMIA Annual Symposium Proceedings found that those who kept a routine log of their health were more knowledgeable about their health and what they could do to improve it.
There's certainly no shortage of fitness journals to choose from: You can find short-term, goal-setting journals, or year-long fitness and wellness planners. You can even find journals that'll help you keep track of your meals, your measurements, water intake, and even your mental health.
To set you off on the right track, here's a list of the best fitness journals, including some trainer faves, to make 2021 the year you conquer all.
Advertisement – Continue Reading Below
1
2021 LifePlanner
Erin Condren
amazon.com
If you're looking for a place to not only write down your fitness goals, but also your food plan for the week, your schedule, and important dates like birthdays and holidays, this planner has you covered. (FYI: Jennifer Lopez is a big fan of this brand.) You can also buy inserts specifically for grocery shopping or packing lists.
Rave review: "I love this planner. The ivory shimmer color is so beautiful. And the colors throughout are very nice. It's a perfect size to carry with you every day." —Erin Scoby, amazon.com
2
Fitbook: Fitness Journal and Planner
This 12-week planner is a great way to jumpstart your fitness goals for 2021. The way it works is, you set a specific goal to reach (gain five pounds of muscle, maintain four-a-week workouts, etc.) by the end of the 12 weeks, then track your progress along the way. 
It includes a designated section to track cardio versus strength training, along with a full food log. You even have the option to write down a reward you'll treat yourself to if you hit your weekly goals.
Rave review: "I am a certified personal trainer and have to say I am impressed. The best way to get started on a healthier lifestyle or to meet a goal that u have set for yourself is to plan it out ahead of time. Have a solid plan and set your schedule. The planner is very detailed with tracking food intake, resistance training, cardio, etc." —Nyta, amazon.com
3
Wellness Planner
There's no better planner to help you chase your fitness goals than one that will motivate you. This one from Ban.do features encouraging tear-out cards, activity trackers, and paragraphs of inspirational advice, like one about embracing growth. This journey is meant for overall wellness, including physical and mental. 
Rave review: "I love my planner. It helped keep track of what I eat, how I feel daily and it's full of motivational tips and messages. I love reading it all the time!" —Sudyen M., bando.com 
4
Daily Fitness Planner
Training for a competition, race, or just like keeping track of new PRs? This planner has detailed daily fitness logs that let you record your training type, and even the specific exercises in your routine. There are weekly check-ins for you to reflect on how you feel after the past week, and weekly planning pages to help you think about goals and dreams for the week ahead. 
Rave review: "This planner is EXACTLY what I was looking for!!! I've recently started a new heavy lifting workout plan, and this keeps me on track. I know exactly what I'm going to do each day, and I can quickly make any notations I want during my workout." —Ayla, amazon.com
5
Cossac Fitness Log Book & Workout Planner
Track your progress for 140 days using this sturdy journal, which customers rave about for its durability. No matter where you lug it to, the living room or the local park for an outdoor workout, the journal is almost resistant to wear and tear. It also features space for you to record sets, types of exercise, rating, body measurements, progress, and diet preferences. 
Rave review: "Comprehensive, well-organized, great quality paper. It has everything I need! I'm a personal trainer, and I buy one for every one of my clients as part of their onboarding process." —Ana Carolina, amazon.com
6
Wellness Yearly Journal
Dailygreatness
dailygreatness.co
$49.95
If you like tons of motivation along your fitness journey, buy this planner to stay on track. There are pages to log daily workouts and nutrition, as well as a goal planner for bigger things you want to tackle. 
This fitness journal also contains nutrition and fitness tips with explanations, and shopping lists so you can be sure to stock up on good-for-you foods. It's undated, so start immediately this year, and fill it in as you go.
Rave review: "It has almost everything you need for total wellness; like worksheets, food and exercise journal, meal and goals, training, shopping lists. Must have. Don't think twice. Just buy it." —Lyn G., dailygreatness.co
7
Grateful Heart: Fitspiration Gratitude and Fitness Journal
Fitlosophy
amazon.com
$17.55
If want to track your fitness regimen but add a little more mindfulness, gratitude, and reflection into your life, check out this 16-week journal. Similar to the 12-week planner, this one helps you set a specific, shorter-term goal to focus on. Whether that's related to physical or mental health, this fitness journal will help you take the steps to get there.
In addition to daily fitness, nutrition, and wellness tips, there's a space for you to think about what you're thankful for. "For me, it helps me keep gratitude at the top of mind all day," explains Erin Bailey, trainer at Everybody Fights and Burn Fitness in Boston, MA, and fan of gratitude journaling. "It helps me be more giving in the little moments, and those little moments add up to a really wonderful life."
Rave review: "Love these journals. This is now my 3rd one to date. It is so nice to get home and unwind writing about my day and filling in what I ate for the day along with the exercise I did. Really gets me to be aware of my day and how I can always do better for myself." —Denyse Wilson, amazon.com
8
Love Sweat Fitness 2021 Planner | Weekly and Monthly Calendar
Love Sweat Fitness
amazon.com
If you're looking for a planner that's super functional, but also really cute, here's your perfect fit. The planner is filled with space for you to set your goals and intentions, but it also includes easy-to-follow workouts and stretches, and healthy food tips. There's also monthly horoscopes and instructions for DIY face masks if you're into that. 
Rave review: "Hits all the bells and whistles I've been missing in other planners." —JT, amazon.com
9
Boho Rainbow
This 16-week productivity planner will allow you to meet your goals at your own pace. It's undated, but you can fill in the dates yourself. It includes some of the basics like spaces for you to fill in your schedule and make a to-do list, but there's also room for you to regularly reflect on your personal growth. 
Rave review: "I treasure my wellness journal. It is one of my special purchases. It took me time to decide which journal, cover design, etc. as there are so many choices. I am very pleased with this product, and recommend this highly to others." —Rebecca P., papier.com
10
Erin Condren Designer Petite Wellness Planner
Erin Condren
amazon.com
$15.99
This wellness planner from Erin Condren is perfect for tracking all parts of your physical health from your steps taken, to your fitness activity, to your meals, and even your water intake. The planner includes 80 pages and a motivational and health-themed sticker sheet. 
Rave review: "I love how this planner is laid out, its straight to the point and has the weekly outline for you to see your goals one week at a time. the stickers are super cute too." —Lavenderhippy24, amazon.com
11
Workout Log Book & Fitness Journal
NewMe Fitness
amazon.com
$14.99
With nearly 3,500 positive reviews, this fitness journal is perfect for detailed tracking of your goals. The journal allows you to keep track of your measurements, exercises like where you're at with a one-rep max move, and there's even a space for you to jot down your daily affirmations. 
Rave review: "I like being able to see everything laid out and being able to track my sleep, water, mood, etc. I also love how many tracking possibilities there are in the beginning including measurements, goals, healthy meals, preferred workouts, goals, affirmations, etc." –AnneKay11, amazon.com
12
This article is part of Vision21, a year-long initiative from Women's Health encouraging readers to dream big and achieve their goals. Add to our vision boards on Pinterest and click here for more Vision21 content.
This content is created and maintained by a third party, and imported onto this page to help users provide their email addresses. You may be able to find more information about this and similar content at piano.io
Advertisement – Continue Reading Below