Food is central to daily life. But just as eating is essential, keeping a healthy mindset toward food and nutrition is just as important — especially during times of stress.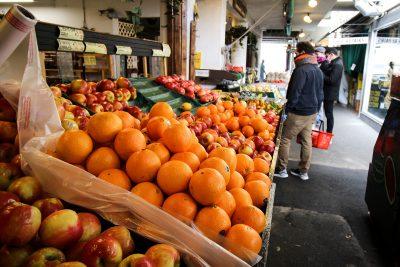 Boston University's Sargent College of Health and Rehabilitation Sciences held an event Thursday titled "Three Steps to Maximizing Nutrition and Satisfaction" focused on balancing food intake and creating strategies for healthy eating.
Rachel Reynolds, the assistant director and senior nutritionist at BU's Sargent Choice Nutrition Center and licensed dietitian, led the seminar, speaking about hunger, fullness and thoughtful eating.
Reynolds took audience members through an "intimate" discussion on factors impacting eating patterns, including stress, scheduling, emotions, friends, family and the media. To offset these factors, checking in with one's body and understanding fullness and hunger keeps portion sizes appropriate and thoughtfulness in food choices, she said.
"Essentially at first glance … it's sort of describing continuum between feeling starving and feeling stuffed," Reynolds said at the event. "The purpose of this skill is to put some language to what people may or may not be feeling or recognizing in terms of their own hunger and fullness cues."
Reynolds said hunger and fullness are "incredibly unique to each individual." She asked the audience how these feelings affect them — some said they experienced difficulty focusing, irritability and lightheadedness.
Emin Lee, a senior in Sargent studying nutrition science, is the president of the BU Nutrition and Dietetics Club. She said the group is composed of students who are interested in nutrition and it typically hosts panels on how nutrition can become a profession.
Because of the pandemic, Lee said BUNDC has been able to speak to a greater portion of the community.
"We started off the year with a faculty panel, where the nutrition faculty would come and talk to us about their own paths and careers," Lee said in an interview. "It's quite interesting because I didn't know that a lot of people were actually involved in heavy research."
Counseling for individuals with more specific needs was also brought up at the event. Any student in the BU community qualifies for one individual session for health meal planning after completing a workshop, and students who are "at nutritional risk" can have five nutrition counseling sessions each year for free.
An estimated 28.8 million Americans will battle an eating disorder at some point in their life — or 9% of the population — according to a study conducted in part by Harvard University's Strategic Training Initiative for the Prevention of Eating Disorders.
BUNDC also works to raise awareness about eating disorders yearly, Lee said. They also have a monthly newsletter, she said, talking about mindful eating and wellness.
Lee said the pandemic is an important time to bring attention to nutrition because overall wellness and mental health are greatly affected.
"A lot of people are struggling with mental health, and that can really impact not just one specific part of your life but basically your entire life," she said. "Food can be a huge part of that."
Reynolds' presentation also focused on how to create a balanced meal while incorporating essential nutrition components. Though meal-planning is a popular trend right now, with meal-kit delivery services such as "HelloFresh," Reynolds said being mindful about creating a complete meal through different strategies will make a difference in eating habits.
Making sure a meal includes three main categories of food helps maximize nutrition and maintain fullness, Reynolds said at the event. These categories — whole grains and starches, fruits and vegetables, and protein sources — provide energy boosts and lasting satisfaction.
"So many things can distract from us actually tuning inwards because a lot of times we have other things that we're tuning into that we have to get done," she said. "Fullness and satisfaction can be a really helpful thing to be part of our conversation."